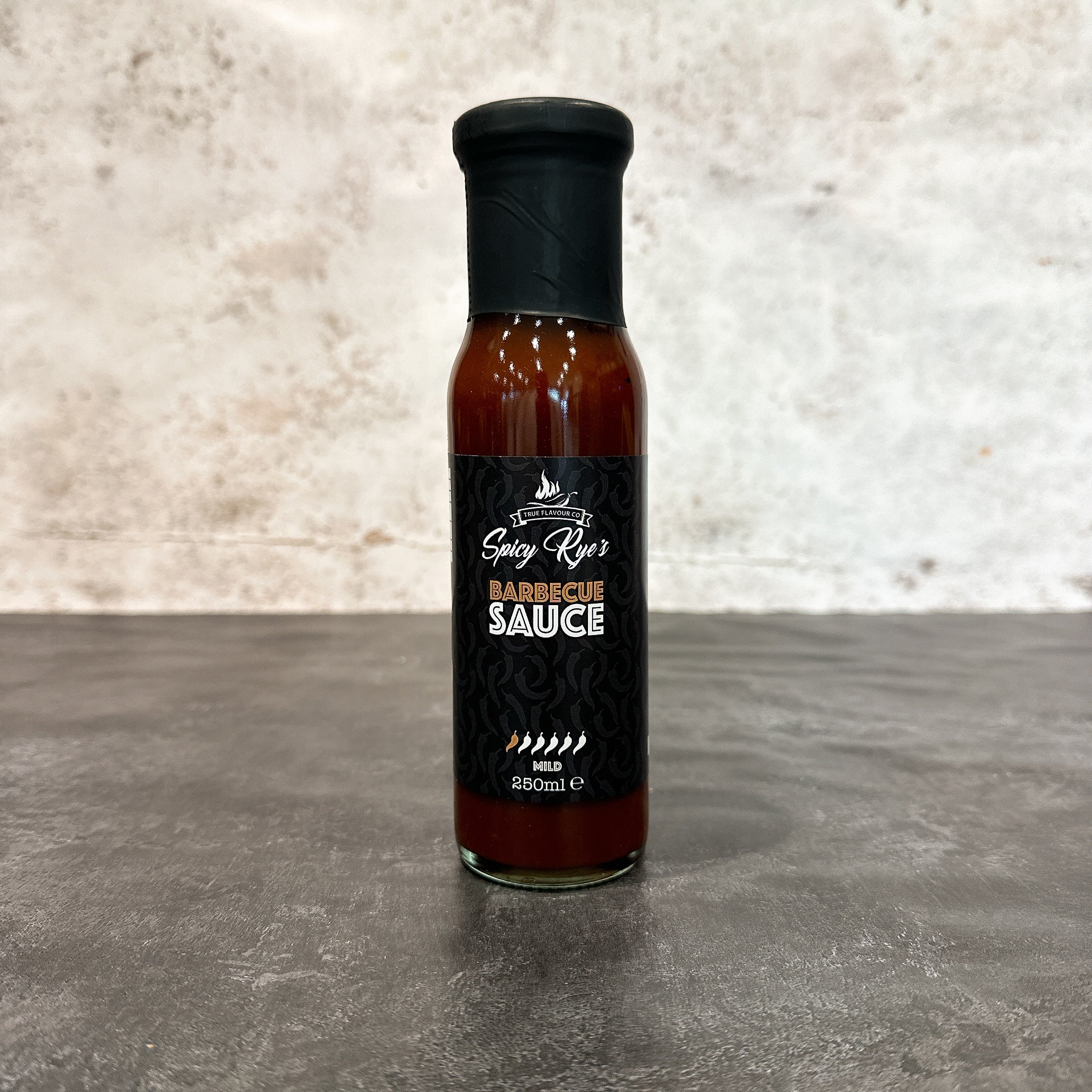 Smoky BBQ Sauce
Introducing Spicy Ry's Smoky BBQ Sauce – a mouthwatering blend of rich barbecue flavours and aromatic spices, masterfully crafted to bring the authentic taste of the grill to your kitchen. Experience the delicious versatility of our sauce:
Marinades: Immerse your meat, poultry, or seafood in our sauce as a marinade, ensuring a tender and flavour-infused result with a delectable smoky touch.

Glazes: Add a savoury, smoky finish to your grilled or baked dishes with our Smoky BBQ Sauce as a glaze, perfect for a satisfying barbecue experience.

Dipping: Savour a luscious and hearty dip for appetizers like chicken wings, sliders, or onion rings, offering a delightful balance of smoky and tangy flavours.

Sandwich Spread: Enhance your burgers, pulled pork, or brisket sandwiches with a generous spread of our sauce, adding a sumptuous layer of smoky goodness.

Stir-fries: Elevate your vegetable or noodle stir-fries with a splash of our Smoky BBQ Sauce, creating a flavourful fusion of tastes in your meal.
Indulge in the comforting charm of Spicy Rye's Smoky BBQ Sauce – your go-to choice for infusing your dishes with the perfect balance of savoury, smoky, and satisfying flavours.
Ingredients
Molasses (27.7%), Apple Cider Vinegar [Organic Raw Apple Cider Vinegar, Acidity 5%], Onions, Tomato puree, Red peppers, Spirits, Organic Mustard [Water, Mustard Seeds Yellow*, Vinegar*, Rock Salt, Mustard Seeds Brown*, Spices*, Spice Extract*, *= Certified organic ingredients], Garlic, Ginger, Paprika, Chipotle Chilli Flakes, Pink salt