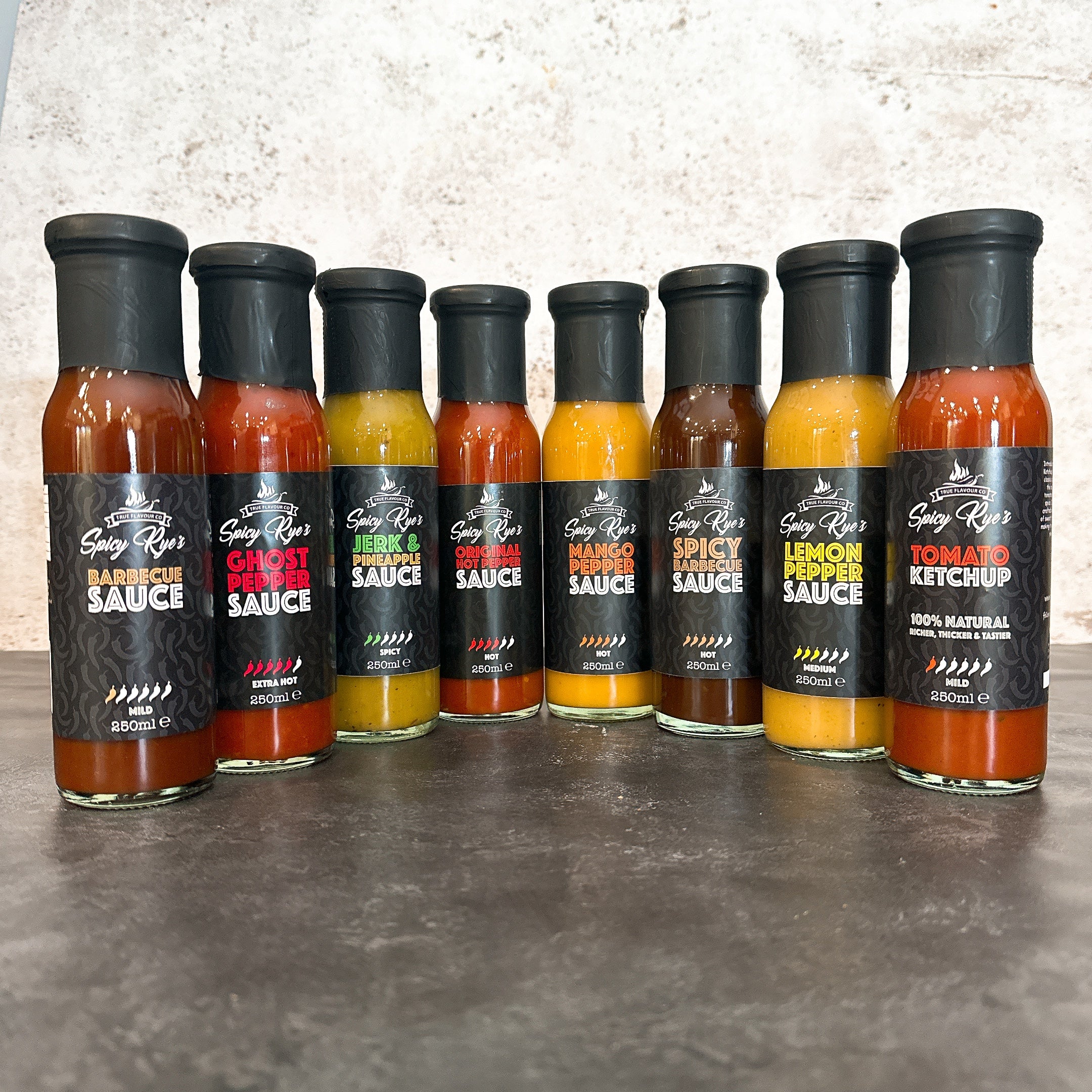 Ultimate Flavour Adventure Gift Set
Save

Liquid error (snippets/product-badge line 32): Computation results in '-Infinity'

%
Introducing Spicy Rye's Ultimate Flavour Adventure Gift Set – a carefully curated collection of our most diverse and delectable sauces, masterfully crafted to take your taste buds on a journey through a world of exquisite flavours. Perfect for gifting or treating yourself, this set includes:
Original Hot Pepper Sauce: A classic blend of fiery peppers and select spices, delivering a burst of heat and flavour to your everyday culinary creations.
Ghost Pepper Sauce: An exhilarating fusion of searing hot ghost peppers and potent spices, providing an extreme heat sensation for the daring heat-seekers.
Spicy BBQ Sauce: An irresistible blend of smoky barbecue flavours and fiery spices, offering a bold twist to your grilling and cooking adventures.
Barbecue Sauce: A mouthwatering fusion of rich barbecue flavours and aromatic spices, delivering a satisfying and authentic smoky taste.
Tomato Ketchup: A delightful blend of ripe tomatoes, select spices, and a hint of sweetness, providing the perfect touch of classic flavour to your favourite dishes.
Mango Pepper Sauce: A delightful mix of sweet mangoes, fiery peppers, and aromatic spices, offering a fruity kick to your culinary creations.
Lemon Pepper Sauce: A zesty combination of tangy lemon, bold peppers, and select spices, adding a burst of citrusy flavour to your dishes.
Jerk and Pineapple Sauce: A mouthwatering blend of savoury jerk seasoning, juicy pineapple, and smoky spices, perfect for an authentic island experience.
Access to recipes
Embark on a culinary journey with Spicy Rye's Ultimate Flavour Adventure Gift Set – your go-to choice for infusing marinades, glazes, dipping sauces, condiments, and stir-fries with unparalleled tastes. Experience Spicy Rye's sauces' unmatched intensity and charm, and elevate your cooking game to new heights.