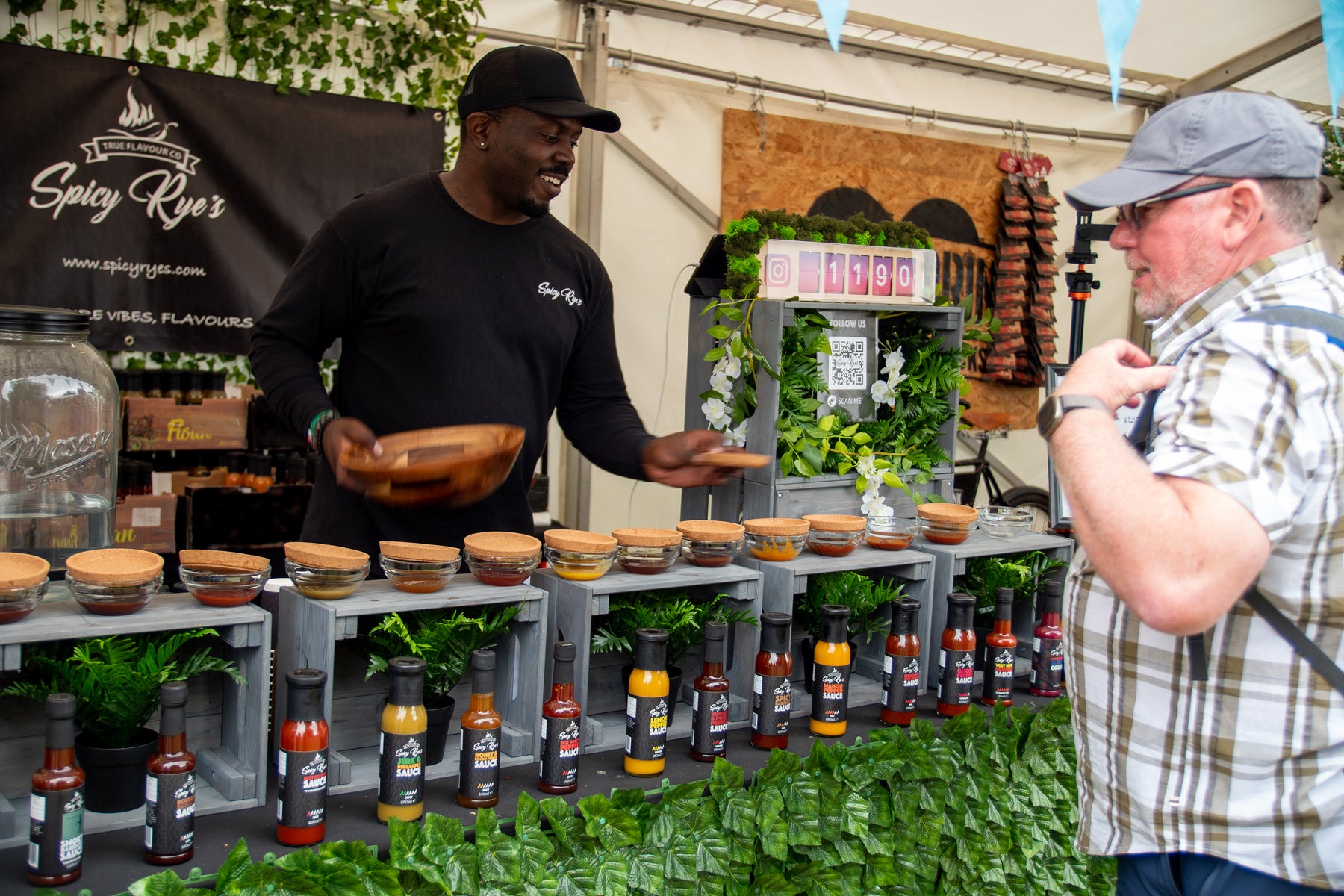 Love at first taste! Spicy Rye's is a hit at pub in the park
We all have read about love at first sight; the lucky ones have experienced it. But have you ever experienced love at first taste? Imagine the perfect blend of flavours and just the right taste! Yes, it exists, and you can also sample it as many others did at the pub in the park. Spicy Rye's hot sauces not only promise amazing flavour but also deliver it.
The taste test
All manufacturers claim that their products are the best. However, the true test lies with the public and their opinion about the product. So, we recently decided to set up a booth in the pub in the park. It did two things – introduced our hot sauces to the people and reassured our belief in the greatness of the sauce.
Marketing gimmicks can work with a variety of products. However, when it comes to food items, only the truest product will stand the test of time. When we came up with Spicy Rye's, we knew we had a great flavour profile packed in a bottle. So, we decided to put our flavour profile to test at the pub in the park.
Any activity that involves the public can only be successful with eager participants. We were fortunate enough to have loads of them. People came in great numbers to taste our hot sauces, and they even recommended it to their fellows who were present in the park. The best outcome of the activity was listening to people from different walks of life-giving us their valuable opinion on the sauces.
True connoisseurs of sauces will agree that the mass-produced sauces are filled with more filler ingredients, less original spices and produce. We created Spicy Rye's while keeping up with our commitment to produce authentic and flavor-filled hot sauces that are a delight when tasted.
Introducing people to magical flavours
One reason our meet and greet with the public at the pub in the park was such a success was because of the variety of sauces. We presented a range of 15 flavours of the hot sauce that go from mild to wild. Catering to a wide flavour profile with such an enthusiastic gathering proved to be a success. The variety of flavour levels gave everyone the opportunity to sample our size and try it with different things.
It'd be selling ourselves short to say that our meet and greet at pub in the park was a success – it was way more than that. However, you can also taste our delicious hot sauces, and we would love to know your opinion on them. Visit our website to order Spicy Rye's hot sauces for yourself and your loved ones!
Call our team now on 07999481125 for more information. https://spicyryes.com/